Cabling Systems, Inc. has provided home and business security systems and products to clients throughout Haymarket, Virginia (zip code 20169) since 2002. Our office is located just 25 miles southwest of Haymarket in the historic town of Remington, Virginia.
Call us today at (540) 439-0101 to learn how we can help you protect your Haymarket, VA home or business from theft and intruders and remotely monitor what's happening inside and outside your home and business 24/7.
Security Solutions for Haymarket, VA Businesses:
Protect your employees and assets from burglary and fire
Monitor your business via video, 24/7
See whether employees are opening your business on time
See whether employees are arriving and leaving as scheduled
Monitor activities inside and outside your business premises
Monitor freezers, walk in coolers & server rooms for hi/low temperatures
Receive real-time email and text alerts when your security system is armed or disarmed
Reduce costs of insurance
Enhance the resale value of your business
Our Security Systems for Haymarket, VA Homes Will Help You:
Protect your home and family from burglary, fire, flood and hi/low temperature changes
Stay connected 24/7 to what is happening inside and outside your home
Monitor children's activities remotely
Monitor who is arriving and leaving your home
Monitor babysitter, child care and adult/senior caregiver activities
Receive real-time video clips directly via text or email
Company owners Glenn and Sissy Duckworth are committed to providing the personal service you want and deserve, and the highest-quality customized and affordable security systems to Haymarket, Virginia residents and business owners.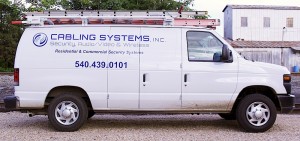 Look for the Cabling Systems truck in your neighborhood, and call us to schedule your home or business security assessment to learn more about how we can protect your home and business from theft and intruders, enhance the resale value of your home and business property, and help you save on homeowners and business insurance.



Haymarket VA Map and History
Haymarket was chartered as a town in 1799 by the Virginia General Assembly. A courthouse, clerk's office and jail were built in 1801 at the present site of St. Paul's Church. In its earliest years, the town thrived on the business drawn to it by the court location.
On November 4, 1862, during the Civil War, Federal troops invaded Haymarket, entering homes and taking whatever they pleased. The following morning, Union soldiers set the entire Town on fire. Only four buildings, St. Paul's and three small houses nearby, survived the fire. As a result, Haymarket remained virtually unpopulated for the remainder of the Civil War. Following General Robert E. Lee's surrender at Appomattox, Haymarket began to recover from the effects of the war.
As of the 2010 Census, Haymarket was home to 1,782 people and 585 households. It is a rapidly growing community located in Prince William County, Virginia, just 37 miles west of Washington DC down Interstate 66.
Learn More About Haymarket, Virginia
For more information about Haymarket, Virginia, visit the town's official website at:
TownofHaymarket.org