Cabling Systems, Inc. has provided home and business security systems and products to clients throughout Bealeton, Virginia (zip code 22712) since 2002. Our office is located just 5 miles southwest of Bealeton in the historic town of Remington, Virginia.
Call us today at (540) 439-0101 to learn how we can help you protect your Bealeton, VA home or business from theft and intruders and remotely monitor what's happening inside and outside your home and business 24/7.
Security Solutions for Bealeton, VA Businesses:
Protect your employees and assets from burglary and fire
Monitor your business via video, 24/7
See whether employees are opening your business on time
See whether employees are arriving and leaving as scheduled
Monitor activities inside and outside your business premises
Monitor freezers, walk in coolers & server rooms for hi/low temperatures
Receive real-time email and text alerts when your security system is armed or disarmed
Reduce costs of insurance
Enhance the resale value of your business
Our Security Systems for Bealeton, VA Homes Will Help You:
Protect your home and family from burglary, fire, flood and hi/low temperature changes
Stay connected 24/7 to what is happening inside and outside your home
Monitor children's activities remotely
Monitor who is arriving and leaving your home
Monitor babysitter, child care and adult/senior caregiver activities
Receive real-time video clips directly via text or email
Company owners Glenn and Sissy Duckworth are committed to providing the personal service you want and deserve, and the highest-quality customized and affordable security systems to Bealeton, Virginia residents and business owners.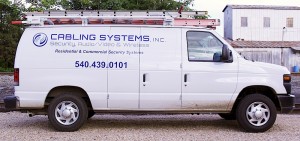 Look for the Cabling Systems truck in your neighborhood, and call us to schedule your home or business security assessment to learn more about how we can protect your home and business from theft and intruders, enhance the resale value of your home and business property, and help you save on homeowners and business insurance.




Bealeton VA Map and History
Perhaps best known as the home of The Flying Circus, Bealeton is one of nine service districts in Fauquier County, Virginia. The Village of Bealeton was originally a stop on the former Orange and Alexandria Railroad (absorbed ultimately into the Southern Railway in 1894, now Norfolk Southern). The old railroad station building can be seen in the Bealeton Station development in front of the new Bealeton Library building.
Many Civil War skirmishes took place near Bealeton. Today, Bealeton is a bedroom community of Warrenton, Virginia and Northern Virginia. Bealeton retains many large farms and offers a unique blend of agriculture, commercial, and residential development.
Learn More About Bealeton, Virginia
For more information about about things to do, places to stay and places to eat in Bealeton, visit:
Virginia.org/Cities/Bealeton.